So a few weeks ago Levi and I decided to make some yummy chocolate chip cookies for daddy! I'm wanting to make this a tradition with Levi to bake things. I think as he gets older he'll enjoy it more and more. I found this cookie mix on sale. Not all the time will I cheat and use a boxed mix. I just wanted to this time. So here is a picture of all of our ingredients. We needed butter, eggs and our cookie mix.
Then I tried to get Levi to pose and smile for me before we begin. Of course I was unsuccessful. Later I'll post pictures of him cheesing when he wants to. lol That sure is cute! He's just to focused on what were about to do.
Afterwards we got down to it! I emptied the mix into our bowl, added the butter, and the egg. Then stir stir stir. Levi's doing pretty good right now stirring, but he's one smart boy acting good and all!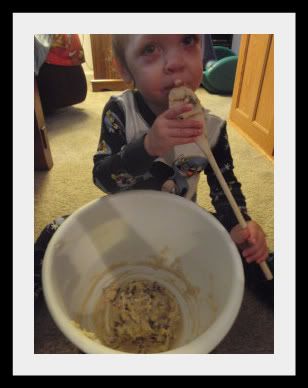 Yup in the mouth. "Mommy I have to taste it." I let him, being all of us have done it. It sure is good! So after I finally got the mix from him again. I formed them into balls(or ones that somewhat look like balls) on to the pan. Had the oven preheated already and put them in.
Also that night I made for the first time Baked Ziti. It's to the left of the cookies and was good!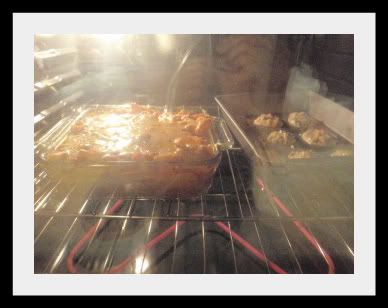 Last but not least our finished cookies! We love you honey and hope you enjoyed the yummy chocolate chip cookies! I can't wait to bake more goodies with Levi!! I know one day I'll have to show him how to make peanut butter cookies, his daddy's favorites!