Last night after my doctors appointment we went to Busch Gardens. It was nice and cool that evening which made it all the better. It was Levi's first time going as well and boy did he have some fun!! He also screamed his little head off too! This ride here he screamed. I was telling him that the other kids were having fun and loving it. He stopped for a bit and then screamed again lol so I told everyone that it was his happy scream!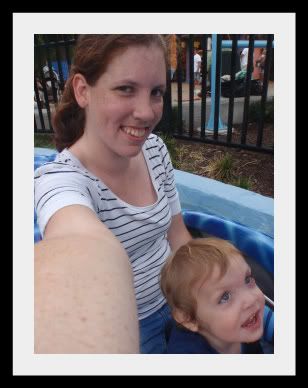 When we got there we went to the Sesame Street Play Area for kids. We rode the log flume which I think was Levi's favorite ride. I got a few pictures and some he's not looking. He was more amused by the water squirting over us during the ride. When we go again I will be sure to take him on this again. That is how much he loved it!
In the Sesame Street Play Area they also had a play area with water for children to run though and get wet. It was in the evening and knowing Levi he wouldn't want to do that so we didn't do it this time. Next time we may and see how he does.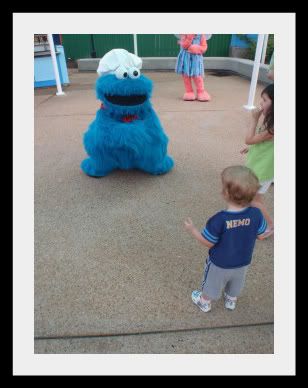 While we were in the Play Area one of the characters came out! Cookie Monster!! Levi's favorite character is Elmo whom we did see, but didn't get a picture with so we opted for Cookie Monster. In the picture is how close Levi would get to him! He would not get any closer. Poor Cookie Monster may of got his feelings hurt. Hopefully overtime Levi doesn't get scared of the characters to much, because they are pretty much nice guys.
Other than that there wasn't much else to do in the Sesame Street Play Area so we walked over to Land of the Dragons. They had a few more kiddie rides.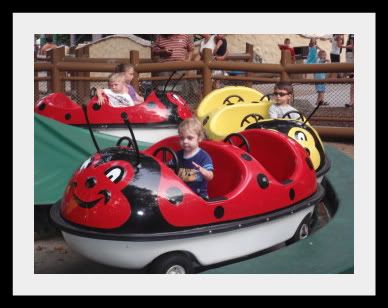 One of the rides Levi rode in Land of the Dragons was the ladybug. "Beep Beep" ...well not that, but whatever a lady bug says when she's driving. Levi loved this ride. He loved steering the wheel of the lady bug while the car was going around and around. Sometimes he even turned to the side a little and steered the back seat ones. Driving from the back. Makes me not want to know what kind of driver he's going to be when he turns sixteen. A front or back seat driver and if he has his hand on the steering wheel or not. I guess only time will tell!
Here's another steering ride him driving the boat! Toward the end of the ride he started climbing and I felt so bad that Levi was doing that. Thankfully she stopped the ride and that's when he sat back down. Go figure right?
Well this was pretty much our day at Busch Gardens. The last two rides Levi rode was the glider with his grandma and the egg ferris well in Land of the Dragons with me. I think all in all he had a nice evening, he got restless since he decided not to take his nap yesterday. Hopefully next time we go to Busch or sometime daddy can join us and ride some fun rides with Levi.